The Equestrian Statue of George I.
Wearing Modern Armour
and Holding a Baton.
at Stowe House, Buckinghamshire.
Recently restored by Rupert Harris to correct the restorations of 1957 and 1972
I will be visiting Rupert Harris at the beginning of November in order glean more information and hopefully more detailed photographs.
John van Nost II was very busy with several equestrian statues during this period. All based on the same prototype which appears to be derived from Le Seuers equestrian statue of Charles I at Charing Cross.
1722 - George I - Bronze

- Modern Armour - John van Nost II - originally set up on the Essex Bridge, Dublin, now at the Barber Institute. Birmingham.
1722 - George I - Lead - Roman Armour, Hackwood Park. John van Nost II. Survives
1723 - George I - Lead - Modern Armour - Stowe House - John van Nost II.
1728 - George I - Lead - Modern Armour - originally set up at Canons House, Edgware, for the Duke of Chandos and later sold, removed and set up in Leicester Square in 1747 - - John van Nost II.
The plinth bears the inscription -
"In medio mihi Ceaser erit
et viridi in campo signum de marmore ponam"
For the conservation of the equestrian statue at Stowe see -
Jaques Rigaud (1681 - 1754)
View from the Portico from the House to the Park at Stowe
Metropolitan Museum, New York.
View of Stowe House from the Parterre.
Lettered with production detail: 'Rigaud & Baron del. et sculp.',
'Publish'd by S. Bridgeman May 12. 1739',
and title in English and in French.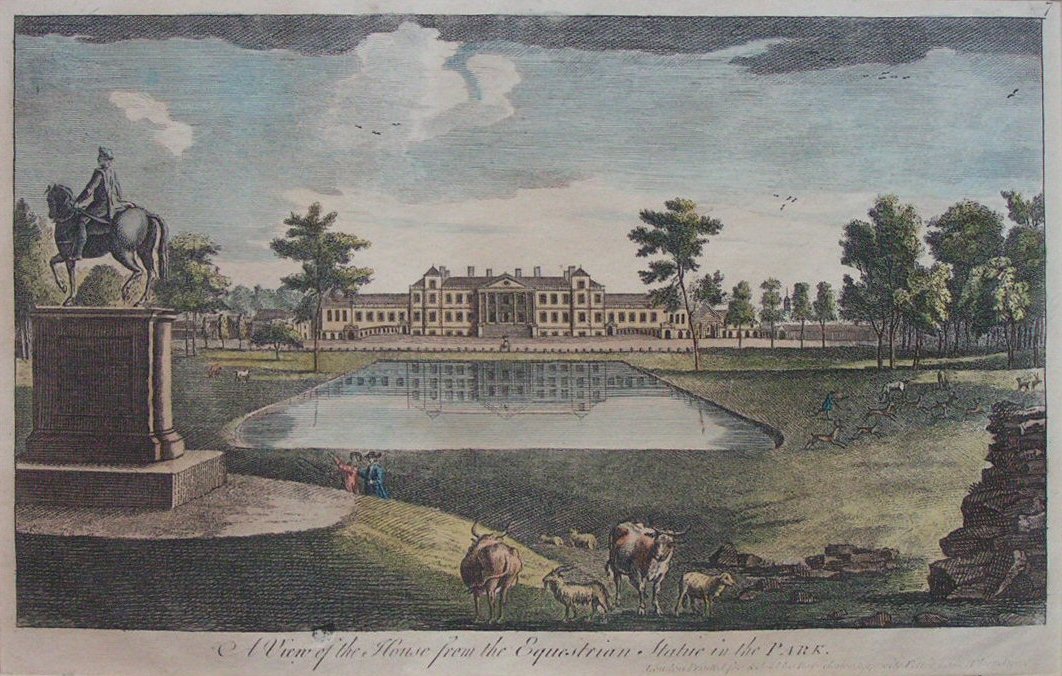 Pub. Robt Sayer after the engraving below.
Engraving by George Bickham after Chatelain
__________________________________________
Illustration from Benton Seeley. Stowe: a description of the Magnificent House and Gardens (London, 1769).