Terracotta Modellos of William III and Queen Mary.
by John van Nost the Elder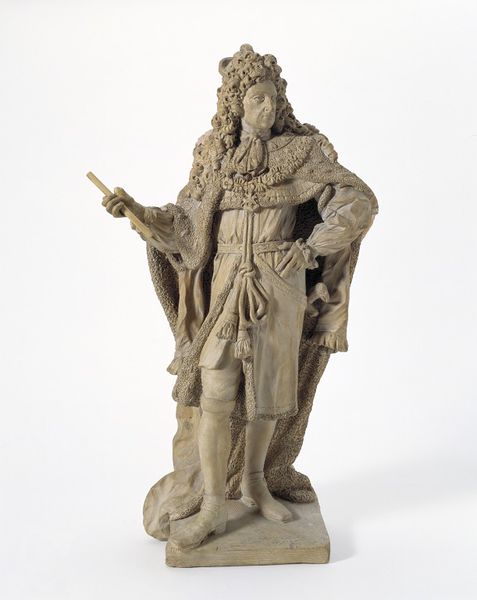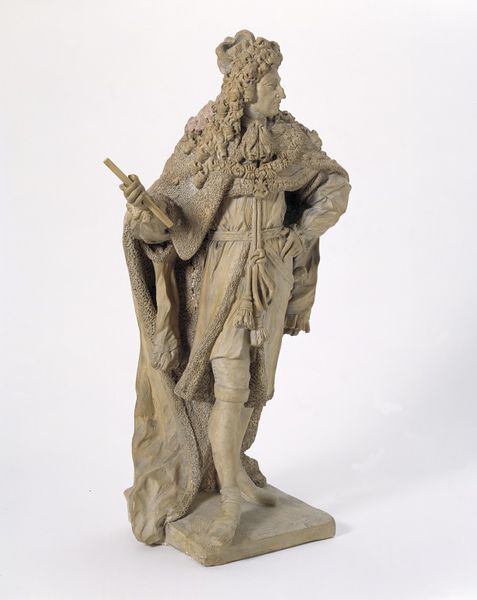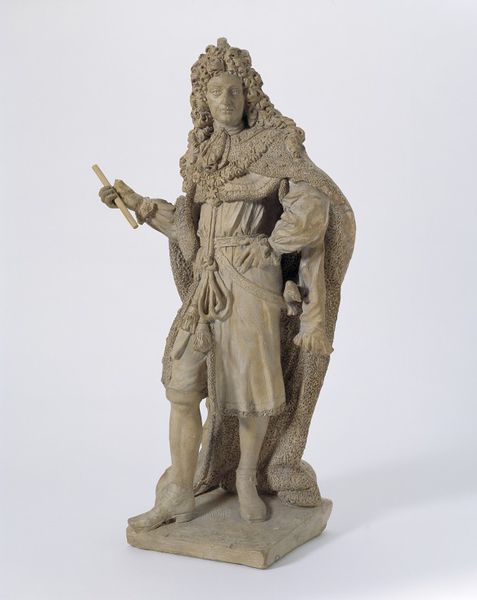 Height: 53.5 cm, Width: 35 cm maximum, Depth: 19 cm maximum, Width: 18 cm base, Depth: 16 cm base.
Purchased from Montague Marcussen Ltd, Antiques & Works of Art. 98 Crawford Street, London, in 1939, for £25. It was on long-term loan to Historic Royal Palaces at Hampton Court from 1992 -1999.
Victoria and Albert Museum.
These were models for life-size figures that were erected in 1695 on the Royal Exchange in London. They were from a series of sculptures depicting English monarchs.
________________________________
By John van Nost the Elder
Height: 61 cm, Width: 30 cm maximum, including sceptre, Depth: 21 cm.
Previously owned by the donor's mother, Lady Younghusband. The donor 'understood from her [mother] that is was one of the statues of Kings and Queens of England which stood in Gloucester Cathedral, until they were removed many years ago'. Given by Miss Eileen L. Younghusband, Holland Park, London, in 1946.
Victoria and Albert Museum.
_________________________________________
Preparatory Drawing by John van Nost the Elder for a projected statue of William III.
The workshop made a number of pieces for William III's gardens. Other statues by Nost also show the King as a Roman emperor, including two in lead, one at Wrest Park, Bedfordshire, and one in Portsmouth Dockyard, Hampshire, which could relate to this drawing.
This preparatory drawing was probably shown to the client, William III. There are very few identified drawings by Nost, the others being in the Bodleian Library, Oxford, and the British Museum, London.
Victoria and Albert Museum.
__________________________________________
Design for a fountain, with a statue of William III; fountain surmounted by a statue wearing antique armour, carrying sword, with various figures seated on scrolls, at centre, a royal crest carried by putti (?), above, two dolphins entwined, related to scheme to alter the Diana fountain at Hampton Court. c.1700.
Pen and brown ink and grey wash
Stainton & White 1987
A design connected with one of several schemes to alter Inigo Jones' and Hubert Le Sueur's Diana Fountain, moved in 1656 from Somerset House to the Privy Garden at Hampton Court (see Stainton & White 1987, no. 90). The fountain was first altered by Edward Pierce between 1689 and 1694 (see Stainton & White 1987, cat. no. 130) but there is evidence to suggest that in about 1700 the figure of Diana was to be replaced by one of William III. Two designs by Nost have survived which are connected with this project: one drawing (Victoria and Albert Museum 9145) shows a statue of William III on a simple pedestal with boys representing the continents at each corner, while the other, exhibited here, is not only more elaborate but shows a clear relationship with the Diana Fountain as remodelled by Pierce. Of Jones' and Le Sueur's original design only the figure surmounting the fountain, the boys holding dolphins and the scallop-shell basins remain: the carved stone pedestal is that designed by Pierce and recorded in Sutton Nicholls's engraving of about 1699 (see Stainton & White 1987, p. 170). The upper parts of both the present drawing and that in the Victoria and Albert Museum are separate sheets of paper pasted down, suggesting that they were alternative proposals. Nost also made a model of a proposed fountain, incorporating the same elements, for which he submitted an account in August 1701. The death of William III in 1702 (while riding in Bushy Park), however, put an end to any plans for the work. I November 1712, under Wren's direction, the Diana Fountain was re-sited in Bushy Park, with a new high rusticated base to Pierce's pedestal (see Stainton & White 1987, p. 127), perhaps made to the design of Nost, who had recently died. Alternatively, it may have been designed by William Talman, who had been responsible for the layout of the grounds: he had submitted an estimate for a "pedestall of Portland stone for a Diana in brass" in December 1699, but was dismissed as Comptroller of Works in 1702.
Although Nost's scheme for the fountain was not carried out, he made several statues of William III, including one formerly at Walton Hall, Lancashire, now in the Yale Center for British Art, and two others similar in design to that shown in this drawing, one now in Portsmouth Dockyard and another at Wrest Park, Bedfordshire. Nost's precedents seem to have been Grinling Gibbons's statues of Charles II, at the Royal Hospital, Chelsea, and James II, now outside the National Gallery, Trafalgar Square.
____________________________________________________________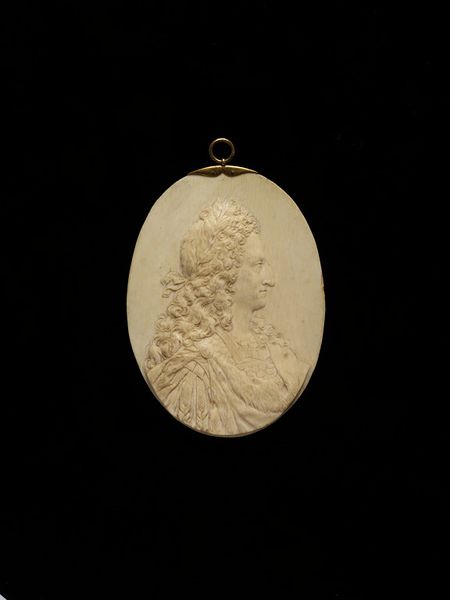 Ivory attributed to Jean Cavalier.
Victoria and Albert Museum.
This portrait medallion is likely to have been carved by the itinerant French ivory sculptor, Jean Cavalier or by a sculptor working in his circle. It may be related to an engraved image. Although it differs slightly in size, it is likely to be a pendant to the relief of Queen Mary II (Mus. no. A.126-1956). Jean Cavalier (1650/60-1698/9), a Hugenot, was a native of France, and perhaps a Protestant. He travelled extensively, working as a wax modeller and ivory sculptor, and specialising in portrait medallions. In the 1682/3 he went to London, where he stayed until 1686; he then went to Trier, perhaps Stuttgart, Düsseldorf, Hamburg, Hannover, Kassel, and in 1689 to Vienna, Munich and perhaps Dresden. By 1690 he was back in London, where he carved pictures of the King and Queen and was given the passport as the 'King's medallist'. He was then at the Danish Court in 1691/3, and from 1694/5-7 in Stockholm, from whence he and his brother Denis, also a sculptor, journeyed as ambassadors on behalf of Sweden to Russia and Persia, where they both died. Cavalier was the most accomplished ivory-carver working in late Stuart England until the arrival of David Le Marchand around 1700.
Victoria and Albert Museum.