Field Marshall George Hamilton,
First Earl of Orkney (1666 - 1737).
Photographs by David Bridgwater

Victoria and Albert Museum.
Literature.
For excellent in depth study into the subject of this and other similar Rysbrack busts see -
D. Wilson, 'The British Augustan oligarchy in portraiture: Michael Rysbrack and his bust of the Earl of Orkney,' The British Art Journal, vol. 11, no. 2, 2010/2011, pp. 43-61;

D. Wilson, 'Michael Rysbrack's Antique Head on Modern Shoulders', The Georgian Group Journal, Vol. XXI [2013], pp. 15-29, at pp. 19-20.
For the excellent Sotheby's Catalogue entry written by the estimable Katherine Eustace see -
Provenance -
Almost certainly George Hamilton, 1

st

Earl of Orkney, and by descent;
Arthur Oliver Villiers Russell, 2nd Baron Ampthill, Viceroy of India and Margaret Russell (née Lygon), Baroness Ampthill, Oakley House, Bedfordshire, until circa 1935;
with Ron Green Antiques, Towcester, Northamptonshire, circa 1955;
with John Teed, Bradford-on-Avon, Wiltshire, by 1956;
Denys Sutton, London, acquired between 1957 and 1959, until 1991;
Sotheby's New York, 29-30 January 2009, lot 339;

Private Collection, London
Orkney Houses - Taplow Court and Cliveden
Town house in Albermarle Street.
Lo res photograph of the Earl of Orkney
Martin Mangaud.
Earl of Orkney
Martin Maingaud
127 x 102 cms.
Provenance -
Collection of George Hamilton, Earl of Orkney (1666-1737) Field Marshal; by descent to [the sitter's son-in-law] William McWilliam O'Brien, 4th Earl of Inchiquin (1700-1777); sold through Christie's, London, on 4 June 1976 (Lot 168); with dealer Roy Miles; from whom purchased by the Department of the Environment in July 1977.
Government Art Collection.
George Hamilton, 1st Earl of Orkney
In the collection of the (William McWilliam O'Brien) Earl of Inchiquin.
engraved by Jacobus Houbraken, after Martin Maingaud.
Line engraving, 1742.
373 mm x 239 mm plate size.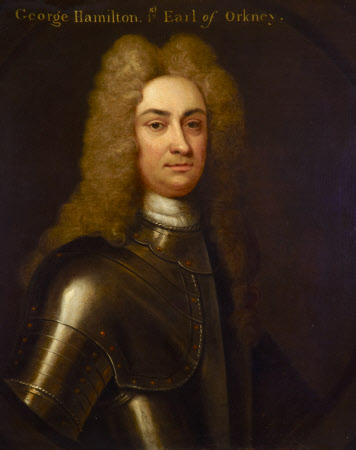 Suggested Portrait of the Earl of Orkney.
National Trust, Cliveden.
Photographs Courtesy Sotheby's.